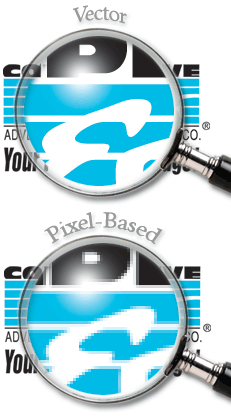 Customer Supplied Digital Art
Digital artwork can be either emailed to us at artwork@compet.com. You must notify your customer service representative prior to sending any artwork. For security purposes, we will not download any file(s) for which we do not have advance notification. Artwork for T-Shirts and other apparel that can be ordered through our online system on our web site can be uploaded during the ordering process.

Acceptable Artwork Formats
We prefer that all digital artwork files be sent as "vector art" with type converted to outlines or curves. Our art department can manage both Macintosh and PC files from most popular vector-based graphics software packages. In order of our preference, we can accept:
Adobe Illustrator .ai, .eps - Convert text to outlines, embed any linked images and save as version CS3 or less.
CorelDraw .cdr – Convert text to curves and save as version 11 or lower.
Adobe InDesign version CS3 or less.
Adobe Acrobat ,pdf – Embed the fonts used or export as generic .eps.
Non-Digital Artwork
All orders for new designs or revisions must be accompanied by crisp, clean, B/W or camera ready artwork, color separated, and at 200% of the imprint size, or to a maximum size of 8" x 10". If artwork is to be returned after use, please specify this on your purchase order indicating where the artwork is to be returned and by what shipping method. The customer shall hold Competitive Edge harmless from any and all loss, costs, expense, and damages to submitted artwork.

E-mailing Artwork
Art work can be emailed directly to the Competitive Edge Art Department at: artwork@compet.com. YOU MUST NOTIFY YOUR ACCOUNT REPRESENTATIVE PRIOR TO SENDING ANY ART WORK TO THE ART DEPARTMENT. Your representative will then instruct the Art Department to download your file(s). For security reasons, we will not download any file(s) for which we do not have advanced notification. For very large files if may be necessary to send us the file(s) via our FTP site. Please contact your customer service representative for instructions on how to access our FTP site.
Design Responsibility
Buyer shall indemnify and hold seller harmless from all liabilities, losses, damages, suits, demands, and expenses arising in connection with the use of any picture, plate, advertising copy, specifications, or material furnished to seller by buyer, including but not limited to any claim of infringement of patent, trademark, copyright or other property right, or invasion of privacy. All designs are subject to production acceptance and can be refused due to the nature of content or if deemed in bad taste.

Plate Charges
Plates are made to our specifications and are required for all orders, per item, per design. Set-up charges are a one-time charge covering final artwork, film work, and printing plates. Any changes to an existing design would require a new set-up charge. Set-up charges are noted below the pricing grid on most products on this site. Plates are kept on file for a period of two (2) years.

Fonts
While we recommend that digital artwork be provided to us thus eliminating the need for fonts, our art department maintains a large library of fonts. If we are creating or recreating artwork for an order, please provide us with, or specify the font(s) that are to be used. We will probably have the font in our library or may be able to obtain a free version of the font to use.

Colors
Requested PMS color will be printed using our closest standard ink color(s). Competitive Edge cannot produce exact PMS color matches. We recommend spec samples be done when matched colors are critical. PMS colors below are available at no cost. Additional PMS colors and matches are available at an additional cost. Contact customer service for details.

Click here to view PMS color chart . There are color calibration variances in different monitors, color swatches are only approximate values.

Imprinting
The majority of our products are decorated with a method called Pad Printing. With this type of printing, art work is photo-etched onto a metal plate which is covered with ink. When the plate is wiped clean, ink remains in the recessed areas. A silicone pad then presses against the plate, pulls the ink out of the recesses, and presses it directly onto the product. The flexible silicone pad allows us to decorate both regular and irregular surfaces

Decoration on our products is available in a variety of colors. Because we use coated epoxy inks, PMS matches are not available. The following colors are available with their close PMS equivalents:
Bordeaux Red (PMS 195)
Carmine Red (PMS 193)
Bright Red (PMS 186)
Light Red (PMS 032)
Microsoft Red (PMS 172)
Orange (PMS 021)
Dark Yellow (PMS 1235)
Microsoft Yellow (PMS 123)
Medium Yellow (PMS 109)
Citron Yellow (PMS 102)
Olive Green (PMS 383)
Moss Green (PMS 5555)
Microsoft Green (PMS 360)
Bright Green (PMS 368)
Light Green (PMS 355)
Brilliant Green (PMS Green)
Fir Green (PMS 342)

Forest Green (PMS 560)
Dark Teal (PMS 5405)
Teal (PMS 321)
Light Teal (PMS 327)
Turquoise (PMS 3125)
Steel Blue (PMS 542)
Microsoft Blue (PMS 279)
Sky Blue (PMS 299)
Light Blue (PMS 300)
Medium Blue (PMS 2728)
Standard Blue (PMS 286)
Reflex Blue (Pantone Reflex)
Dark Blue (PMS 294)
Navy (PMS 282)
Dark Violet (PMS 2685)
Violet (PMS Violet)
Lavender (PMS 265)

Pale Purple (PMS 5295)
Purple (Pantone Purple)
Pink (PMS 225)
Light Pink (PMS 507)
Pale Brown (PMS 437)
Tan (PMS 466)
Light Brown (PMS 4705)
Dark Brown (PMS 469)
Dark Grey (PMS 424)
Light Grey (PMS 421)
Copper (PMS 876)
Light Metallic Gold (PMS 8383)
Dark Metallic Gold (PMS 871)
Metallic Silver (PMS 877)
White (White)
Black (100% Black)